Project Details
---
Name of The Smallholder Group Supported
Nedoil Ltd Farmer's Cooperatives
Type of Smallholders Supported by This Project
Country & Location of Implementation
Netherlands, the Sierra Leone, Tonkolili District, Gbonkolenken Chiefdom, Yele Town.
Project Period
Status of The Project
Project Certification Status
Co-funded by RSSF
Co-funded by Other
Contact Person
Email
Available RSPO Credits for Sale
Brief Project Description / Summary
---
Nedoil Ltd operates a crude palm oil (CPO) mill at Yele town, Gbonkolenken Chiefdom, Tonkoliki district in the Northern province in Sierra Leone.
The fruit is collected from its own plantations and from external suppliers adhered through a smallholder program. Currently, Nedoil has a CPO mill of 3tons/hour capacity, 71.5 ha of oil palm concession and 1842 smallholders (4681,10ha) network acting as oil palm fruit suppliers. This network covers 5 chiefdoms: Tane, Gbonkolenken, Valunia, Niawa Lenga and Bagbe.
The expansion plan of Nedoil consists in increasing the number of smallholder members certified to the RSPO standard, the objective is 3000 farmers certified by the end of Yr. 2 (end of the project). The expected project outcomes are described below:
RSPO certification of 3000 independent smallholders.
3000 Independent smallholders are trained in all aspects relevant to an RSPO certification.
Smallholders are trained on good agriculture practices and good management practices to improve FFB yields.
Independent smallholders are trained in biodiversity conservation and environmental impact mitigation.
Independent smallholders are organised into FFS/FBO associations and participate in an internal control system.
Independent smallholders get land rights in Sierra Leone.
Independent smallholders are successfully certified against the RSPO standard (2000 farmers by the end of year 1 and additional 1000 farmers by the end of year 2.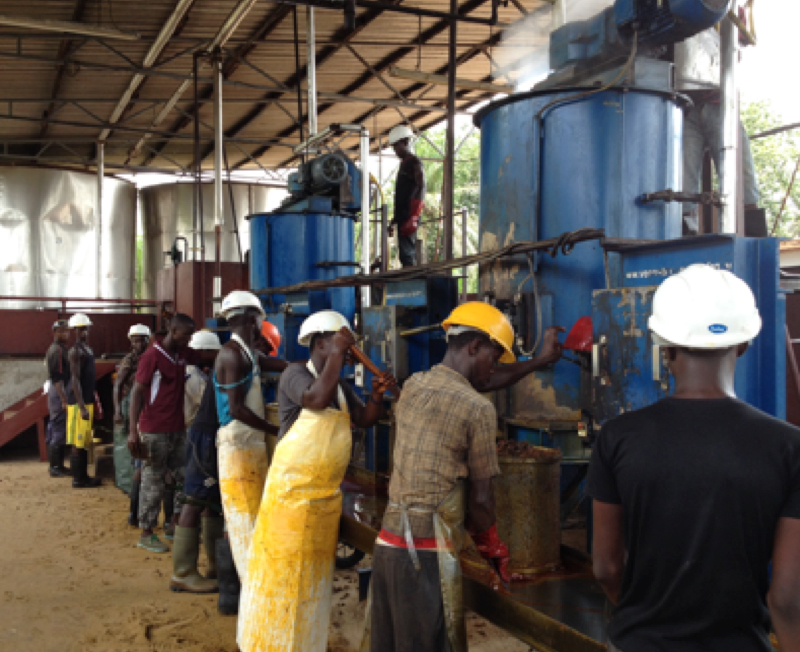 Project Impact
---

Total Area Covered by the Project
7,500 Hectares

Number of smallholders benefiting from this project
3,000
smallholders

Number/Percentage of Women Supported by this Project
At least 900
women in program
General Project Information
---
Type of Support Required
Additional Project Information
Project Information
Looking for Project Partners

Seeking Additional Funding and used for

---

Social & Environmental Impact Assessment
HCV Assessment

RSPO Credits

---

Selling Certified Volume as RSPO Credit?

No

Interested to be Contacted by Potential Buyer?

No

Smallholder Story / Quote

---

Most small farmers in Sierra Leone live on small, scattered farms, following a scheme of bush-fallow rotation, slash-and-burn field preparation, and limited use agricultural techniques. Civil war severely damaged agriculture production. Plantations were abandoned, yields are very low, and there is not access to seedlings or tools.

Natural Habitats Group, through our operation in Sierra Leone Nedoil Ltd and our local teams, aims to generate sustainable livelihoods for our small farmers in the areas where we operate. Knowledge transfer and capacity building in the sustainable and organic production of oil palm is our tool to generate growth and development to the region. (attached photo)

Lessons Learnt

---

The project is in process of implementation. So far, the lessons that we could collect are the following:

Local knowledge: it is key to empower and build capacity in local team leaders. No intervention program will success without the knowledge of the local communities, and local people.
Communication is a key factor, and it only works when you invite local stakeholders to participate in the program definition, action plans and key activities.

Relevant Tools used for Project Implementation

---

The project is in process of implementation

Other Information as Deemed Relevant by the Organisation

---

Project Details

---

Name of The Smallholder Group Supported

Nedoil Ltd Farmer's Cooperatives

Type of Smallholders Supported by This Project

Independent

Country & Location of Implementation

Netherlands, the Sierra Leone, Tonkolili District, Gbonkolenken Chiefdom, Yele Town.

Project Period

01/10/2016 - 01/10/2018

Status of The Project

Completed Project

Project Certification Status

Not Certified

Co-funded by RSSF

Yes

Average Smallholder Yield (in FFB/ha/year)

---

At Project Start: 3Mt FFB/1ha/yr
Current Yield: yet to be revaluated for year 2.


Current Partner Organisations

---

Natural Habitats Group (The Netherlands team) – Implementing and co- funding Partner

Group Sustainability Manager: Jessenia Angulo

Email: This email address is being protected from spambots. You need JavaScript enabled to view it.